■ Specifications
Distinctive features
1. Efficient machine: This machine combines the circular, elliptical and reciprocating linear movement, and installs surface cleaning device, so this machine can reach to high production, high efficiency and low consumption.
2. Silent machine: Adopt special balance mode(provided with an eccentric hammer), the inertial force in all directions were balanced perfectly when screening, little shake, low noise, smooth operation.
3. Sealed machine: The main components adopt mechanical bending, riveting, welding, well sealing performance.
4. Transmission: Adopt belt to drive, smooth transmission, stable and reliable, low noise, easy to install and maintain.
5. Beautiful machine: Compact structure, neat and beautiful appearance.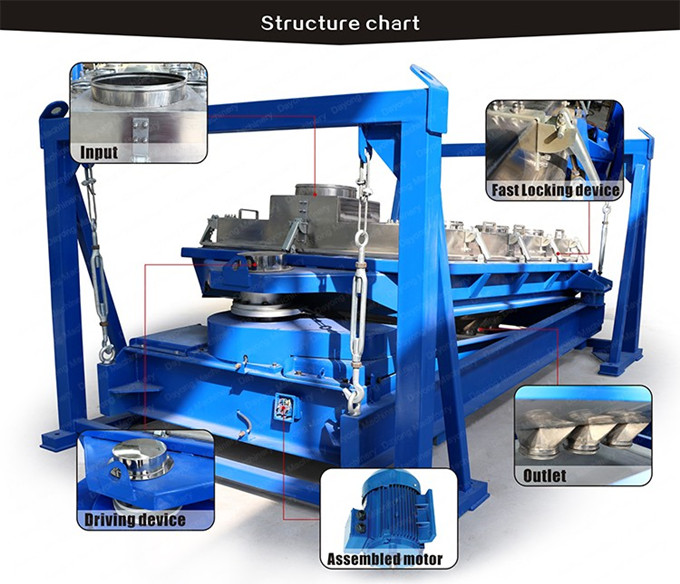 Application industries
1. Mainly used for screening, filtering, grading and removing impurity for all kinds of powder, particle, and liquid.
2. Mainly suitable materials: chemical, medical powder and particle, coating, pigment, cosmetic, grease, resin, ceramic sauce, slurry, quicklime, fireproofing powder, metallurgy powder, starch,flour, rice flour, carbon powder, graphite powder, manganese powder, sewage, waste oil, dung, etc.

Attention: This machine is an
customizable machine,
which could designed and manufactured according to clients' specialized production line requirements.

■ Technical Data
Model

Screen Surface

Area(mm)

Feeding Size

(mm)

Amplitude

(mm)

Frequency

(r/min)

Motor Model

Power

(kW)

Layer

PXZS1224

1200x2400

<15

75-90

1450

Y132S-4

5.5

1-3

PXZS1230

1200x3000

<15

75-90

1450

PXZS1236

1200x3600

<15

75-90

1450

PXZS1524

1500x2400

<15

75-90

1450

PXZS1530

1500x3000

<15

75-90

1450

PXZS1536

1500x3600

<15

75-90

1450

PXZS1830

1800x3000

<20

75-90

750

Y160L-8

7.5

PXZS1836

1800x3600

<20

75-90

750

PXZS1840

1800x4000

<20

75-90

750

PXZS2036

2000x3600

<20

75-90

750

PXZS2040

2000x4000

<20

75-90

750