■ Specifications
Belt conveyor which is also called ribbon conveyor, rubber belt conveyor.
Widely applied to many industries,such as Metallurgical mines, coal, port, transportation, water and electricity, chemical industry, etc.

There are two kinds of conveyor belt which are commonly used: rubber belt and plastic belt and steel belt etc.
Rubber belt is suitable for the working environment temperature which is between 15 ~ 40 ℃.
The temperature of conveying material is no more than 50 ℃, if exceed ,please choose high temperature resistant conveyor belt.

For bulk material, the upward transportation inclination is 12 °~ 24 °.
For large obliquity conveyor skirt side band style is available.
Plastic tape has the advantages of resistance to oil, acid, alkali, but the climate adaptability is poor, easy to slip and aging.
Usual there six style bandwidth of conveyor belt can be used:500、650、800、1000、1200 and 1400mm.
The user can according to the height of the conveying, material kinds, capacity, throughput, transmission length through the calculate and determine the layout of conveyor and confirm the factors such as the selection of belt width, canvas layer number and thickness of the tape.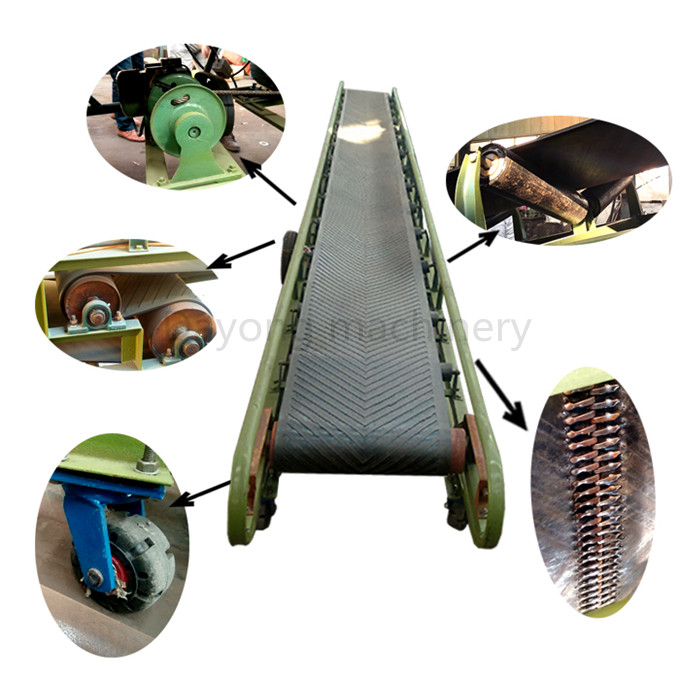 ■ Technical Data
Belt Width (mm)

Belt Length(m)

Belt Speed (m/s)

Capacity (t/h)

Power(kw)

B400

≤12

12-20

20-25

0.8-2

40-80

1.5

2.2

3

B500

≤12

12-20

20-30

0.8-2

78-191

3

4

5.5

B650

≤12

12-20

20-30

0.8-2

131-323

4

5.5

7.5

B800

≤10

10-15

15-25

1.0-2

278-546

4

5.5

7.5

B1000

≤10

10-20

20-25

1.0-2

435-853

5.5

7.5

11

B1200

≤10

10-20

20-25

1.0-2

655-1284

7.5

11

15