■ Specifications
Features Of Tumbler Screen:
1.High capacity:The unit area capacity is five times bigger than other screen.
2.High screening accuracy:It can imitate the screening action and process of manual operation effectively. Make the material walk a long distance on the screen surface, improve the screening accuracy.
3.Ingenuity:Circular building block assembly structure, small volume, light weight. Easy to install and disassemble.
4.Long service life:Low frequency, small load, so low load to the screen, can be used for long time.
5.No environment pollution:Fully closed structure,almost no Let out of material dust.
6.Can add many kinds of the self-cleaning device to the screen surface.Can avoid blocking the screen.There are five kind of self-cleaning device for you to choice:bouncing ball,Rolls brushes,jet type,elastic scraper,ultrasonic.
7.Low noise:The noise < 75db
8.Use brand motor as power source:with longer service life.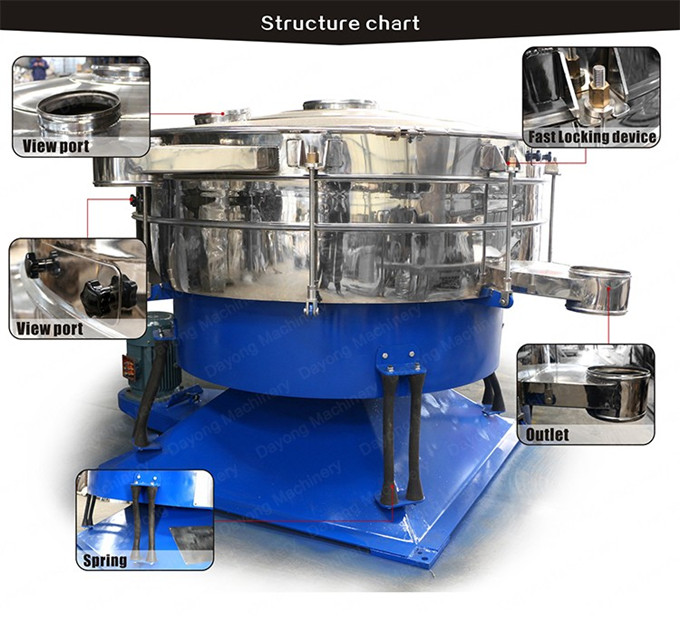 Application Of Tumbler Screen:
1.Chemical industry: resin, pigment, industrial medicine, cosmetic, coatings, Chinese medicine power.
2.Food industry: sugar powder, starch, salt, rice noodles, milk powder, soybean milk, egg powder, sauce, syrup.
3.Metal, metallurgy mining industry: aluminum powder, ceruse, copper powder, ore alloy powder, welding rod powder, dioxide manganese, electrolyse copper powder, lithium battery materials, rubbing powder, fire-proof material, kaolin, lime, alumina, heavy calcium carbonate, quartz. Social pollution disposed; disposed oil, disposed water, disposed dye waste water, assistant detergent, active carbon.

Certificates:
1.ISO International Standards ensure that products and services are safe, reliable and of good quality.
2.CE certification is designed to protect EU consumers by regulating products to reduce possible dangers to people and the environment.