The daily inspection and maintenance of food industry rotary vibrating screen
Food industry rotary vibrating screen is a vibration screening equipment for food powder, particle, liquid and other materials, according to the national food safety standards requirement. The basic principle is through the upper and bottom installed hammer (unbalanced hammer) of vibrating motor axis, make motor rotating movement into level, vertical and inclined three dimensional movement, and transfer the movement to the screen, to achieve the purpose of screening and filter. Change the phase angle of hammer of the top and bottom, as a result changing the movement direction of the material, to get the screen and filter of different materials. But for the screening equipment, how to make daily inspection and maintenance? The following is the answer from Xinxiang Dayong Vibration Equipment Co.,Ltd.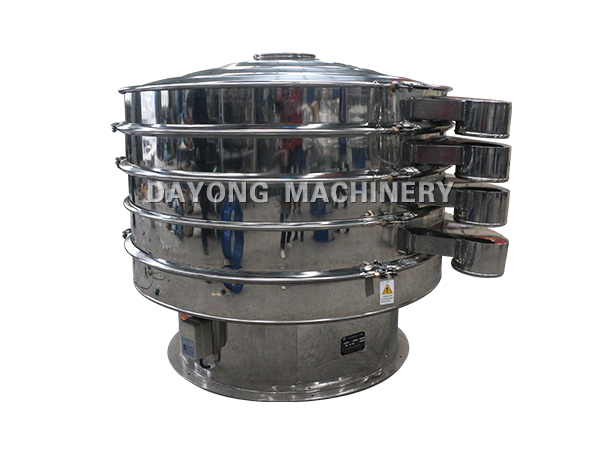 The first is the use instructions of vibration motor:
In order to achieve the vibrating motor continuously output the rated exciting force to the screening surface, and get good screening efficiency. We need to regularly check the using situation of motor, and notice the following problems:
1. Ambient temperature: no more than 40 ℃
2. Altitude: no more than 1000m
3. Power frequency: 50Hz, according to different users requirements, can be customized 60Hz
4. Voltage: 380V, according to different customer needs, can be customized 220V, 400V, 440V and so on
5. Regularly check the motor screws, to prevent the screws loosing
6. Dayong rotary vibrating screen choose the oil-free vibration motor, without regular filling oil
Followed by the using description of rotary vibrating screen:
1. Before the starting food rotary vibrating screen:
(1) Check for rough and fine mesh whether damaged
(2) Whether each group of ring is locked
2. When the food vibrating screen starts:
(1) Pay attention to whether having abnormal noise
(2) Whether the current is stable
(3) Whether the vibration is abnormal
3. After using: Clean the screen surface after you use it every time, to prevent plugging mesh in the next use, especially with sticky material, please pay special attention.
Finally, if having above any abnormal problems, timely contact with professional vibrating screen manufacturers, Dayong machinery will provide 24-hour free professional consulting services, contact telephone: 0086-15136770681.