Spices Vibrating Sifter
Seasonings and spices are auxiliary products that people use to make food. It is an indispensable thing in people's daily life. Today we take a closer look at the application of seasoning shaker in the production of various spices and seasonings.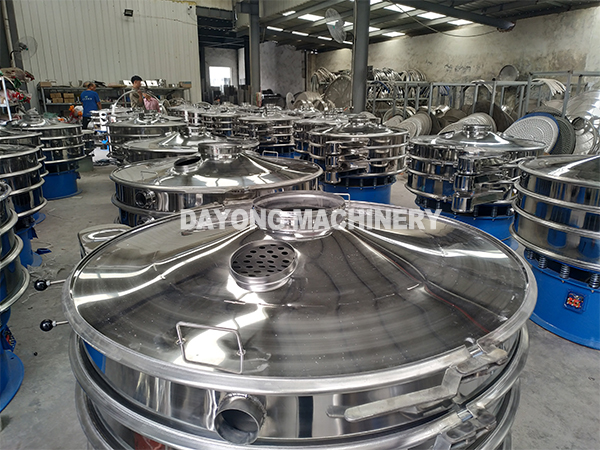 Seasoning sifter is a vibration screening device tailored for the seasoning industry by Xinxiang Dayong. It belongs to the three-dimensional rotary shaker (vibrating screen) and is suitable for screening graded chicken essence, monosodium glutamate, thirteen incense, dumpling seasoning, hot pot seasoning, etc Kinds of condiments. The seasoning shaker is made of SUS304 stainless steel (the material contact surface and the base are made of 304 stainless steel), which meets the requirements for the production of hygienic conditions for seasoning materials. Seasoning vibrating screen has the characteristics of 1-4 layers of simultaneous use, large screening area, high accuracy, small size, does not take up space, low noise, high efficiency, convenient screen change, fully closed structure and so on. The application description of seasoning shaker is introduced in detail below.


Xinxiang Dayong's design and production of seasoning shaker is based on our company's technical department summarizing the advanced technology of rotary shaker equipment in the industry and extensively receiving feedback from users. It has continuously upgraded and improved new lightweight screening and filtering equipment, maintaining the advanced technology in the industry. Performance, stability of use, and reasonable price. The three-dimensional rotary vibrating sieve is widely used, 0-400 mesh dry, wet, fine, rough, size and specific gravity powder and particles can be easily screened, and 0-600 mesh slurry materials can be easily filtered. Xinxiang Dayong tailors the rotary vibration sieve equipment for each user to meet the needs of different users such as material characteristics, processing capacity, screening targets, site constraints, production line configuration and other characteristics.