■ Specifications
Vibro Sifter Feature:
1.Vibro Sifter has the function effectively controlling the sieving granularity scale, which can realize the high precision sieving to achieve the best sieving effect.
2.Vibro Sifter can be used with single layer or multilayer at the same time.
3.Self-cleaning screen function; 0~ 300m sieving, no-blocking sieving mesh, stable sieving efficiency.
4.Prominent advantages in solving sieving difficulties such as high adsorption, easy clustering, high static, high precision, high density, light proportion,etc.
5.Keep processed materials feature stable.
6.18 months warranty, 0 risk trading.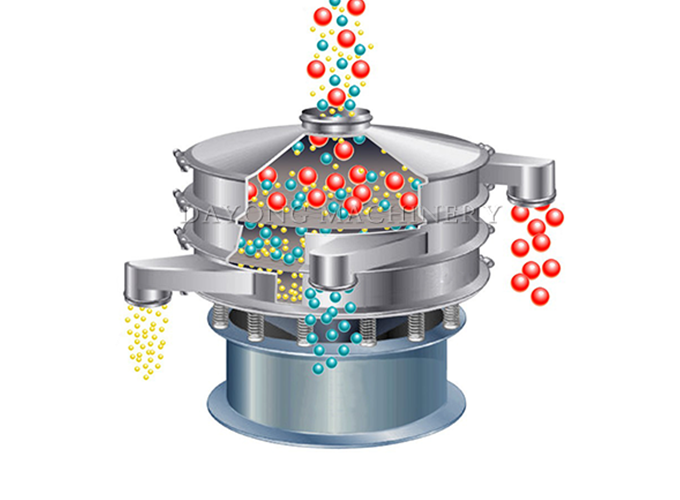 Vibro Sifter Application range:
Many kinds of the materials within 0~300 mesh like dry, wet, refined, coarse, heavy and light as well as those within 0~600 mesh like liquid and pasty materials can be screened by the machines. Details are as follows:
1.Chemical industry: resin, pigment, medicine, grease, extinction agent, rubber and plastic.
2.Abrasive, glass and ceramic professions: silicone sand, aluminum oxide, grinding abrasive, glass dust and fire-proof material.
3.Foodstuff: sugar, salt, alkali, glutamate, starch, powdered milk, soybean milk, yeast and fruit juice.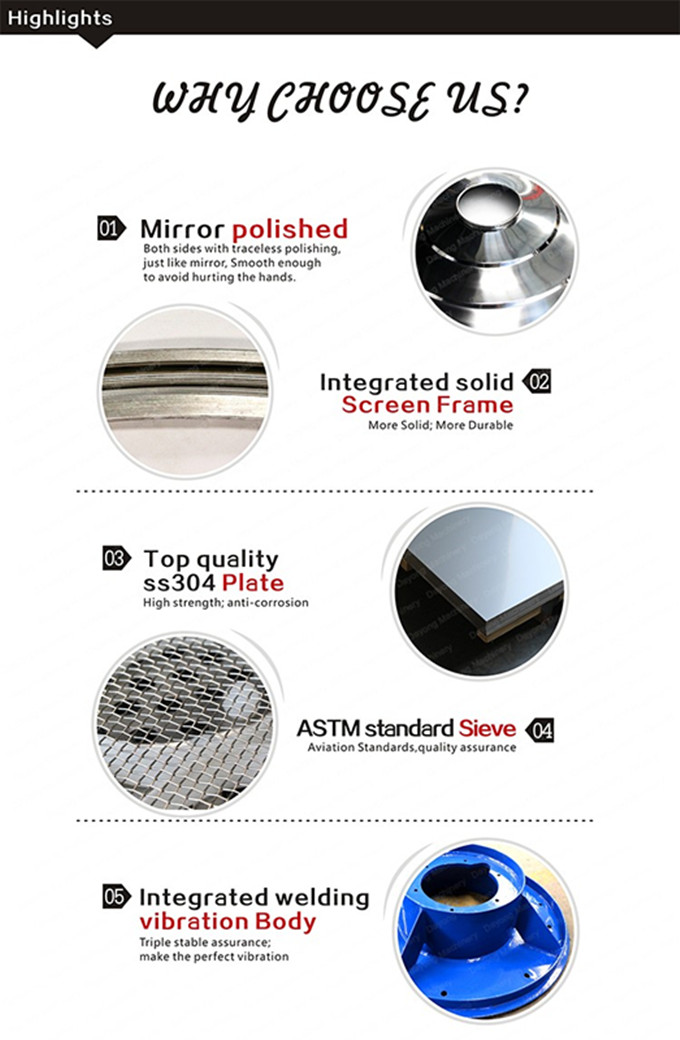 Certificates:
1.ISO International Standards ensure that products and services are safe, reliable and of good quality.
2.CE certification is designed to protect EU consumers by regulating products to reduce possible dangers to people and the environment.
■ Technical Data
Model

Power(kw)

Valid Diameter of screen(mm)

Volume(mm)

Layers

DY-400-1S
DY-400-2S
DY-400-3S

0.18
0.25
0.25

320mm

580*580*560
580*580*660
580*580*760

1
2
3

DY-600-1S
DY-600-2S
DY-600-3S

0.25
0.55
0.55

560mm

800*800*680
800*800*780
800*800*880

1
2
3

DY-800-1S
DY-800-2S
DY-800-3S

0.55
0.75
0.75

760mm

900*900*780
900*900*930
900*900*1080

1
2
3

DY-1000-1S
DY-1000-2S
DY-1000-3S

0.75
1.1
1.5

930mm

1160*1160*880
1160*1160*1030
1160*1160*1180

1
2
3

DY-1200-1S
DY-1200-2S
DY-1200-3S

1.1
1.5
1.75

1130 mm

1360*1360*980
1360*1360*1160
1360*1360*1360

1
2
3

DY-1500-1S
DY-1500-2S
DY-1500-3S

1.5
2.2
2.2

1430mm

1850*1850*1130
1850*1850*1330
1850*1850*1550

1
2
3

DY-1800-1S
DY-1800-2S
DY-1800-3S

2.2
2.2
3.0

1730mm

2200*2200*1360
2200*2200*1460
2200*2200*1680

1
2
3