■ Specifications
Features of test sieve:
1.The machine has the function of re-crashing the agglomeration materials and is safe and reliable for a long time operation.
2.The screen machine can be placed a maximum eight layers tests sieves (including the bottom sieve), can separate the material into 2 to 7 grade at the same time.
3.The products can be automatic shut down according to the electric time controller and Accurate judgment of the online product quality.
4.Free adjustment of all process parameters (time, amplitude).
5.Set the same analysis of time, the inspection to ensure minimum error.
Application scope of test sieve:
Widely used in metallurgy, powder, chemical, medicine, building materials, geology, and national defense scientific research and production departments, laboratories, quality control rooms, institutions of higher learning lab, on the granular, powder particle size structure of materials, liquid type solids content and the amount of debris vibration screening, filtering, standard test sieve test.
Made for the measurement of particles size distribution and the determination of impurity content or solid content in liquid, which are extensively used in scientific laboratories and quality inspection departments.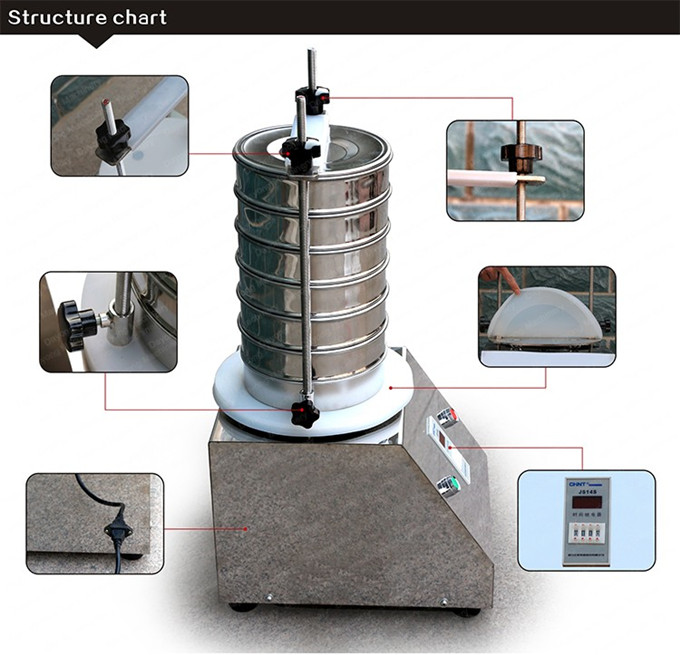 Certificates:
1.ISO International Standards ensure that products and services are safe, reliable and of good quality.
2.CE certification is designed to protect EU consumers by regulating products to reduce possible dangers to people and the environment.
■ Technical Data
Items

Name

Unit

Data

1

Layers

Layer

1~8

2

Diameter

Mm

Φ100

Φ200 Φ300

3

Granularity

Mm

0.038-3

4

Noise

DB

≤50

5

Feeding capacity (once)

G

≤200g/ml

6

Amplitude

Mm

≤5

7

Voltage

V

220

8

Speed

R/min

1420

9

Power

Kw

0.125

10

Overall dimension

Mm

450×415×800

11

Weight

Kg

45