■ Specifications
Middle Frequency Vibrating Screen
Features:
1. The liquid shale shaker is mainly designed with wide mouth to prevent slurry splashing. The large observation mouth is easy to observe the screen surface, easy to operate and maintain, and the discharge mouth can rotate 360 degrees freely. It is easy to connect with supporting equipment.
2. Full sealing design of liquid shale shaker, no leakage of liquid, large processing capacity, 1-2 times larger than the original model, low water content on the screen surface and smooth slag discharge, and the screen mesh size can reach 300mesh.
3. The liquid shale shaker adopts the new screen structure, the mesh is invariable, the screen can be changed quickly, the service life of the screen is long, it can be extended by 3-4 times, the parts have no dead angle, it is easy to clean and disinfect.
4. The liquid shale shaker can quickly remove the insoluble substances to all kinds of slurry, automatically discharge the slurry slag, and can operate continuously.
5. The liquid shale shaker adopts a new type of vibrating motor, which has small power, large exciting force, low energy consumption, stable operation and low noise. The motor has waterproof and dust-proof device, which is safer, more secure and has long service life.
6. The liquid shale shaker can be set as fixed type and movable type according to the customer's requirements.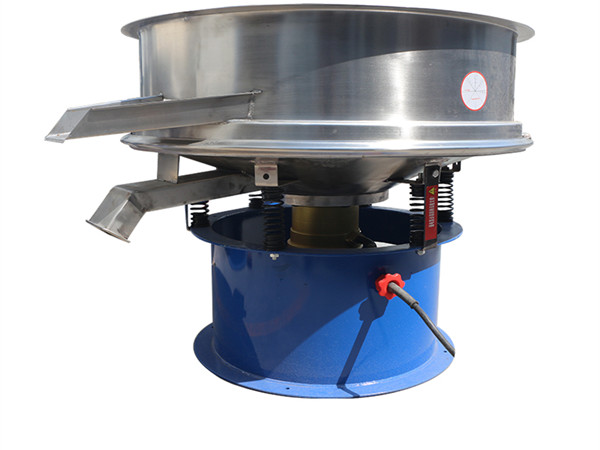 Middle Frequency Vibrating Screen
Applicable Industries:
Chemical industry:resin, pigment,cosmetic, coatings, chinese medicine powder.
Food industry: sugar powder, starch, salt, rice noodle, milk powder,egg powder,sauce, syrup.
Metallurgy, Mine industry: aluminum powder, copper powder, ore alloy powder, welding rod powder.
Medicinal industry: all kinds of medicine.
Waste treatment: disposed oil, disposed water, disposed dye waste water, active carbon.
■ Technical Data
| | | | | |
| --- | --- | --- | --- | --- |
| Model | Power(kw) | Effective diameter for sieve surface | Packing size | layer |
| DYJ-600-1S | 0.25-0.55 | 560 mm | 800×800×780 | 1 |
| DYJ-800-1S | 0.55-0.75 | 760mm | 900×900×930 | 1 |
| DYJ-1000-1S | 0.75-1.5 | 930mm | 1160×1160×1030 | 1 |
| DYJ-1200-1S | 1.1-1.5 | 1130mm | 1360×1360×1160 | 1 |

How to get a suitable machine? Pls kindly provide the follow information:
1. Your usage?
2. The capacity you require?
3. How much screen mesh size you need?
4. What's material? Stainless steel or contact part stainless steel or carbon steel?
5. Power condition. 380V or 220V or 50HZ or 60 HZ?
6. Other special requirement?