What kind of the screening device is suitable for flour screening?
The flour screen produced by Xinxiang Dayong Vibration Equipment Co.,Ltd is a specially designed sieving equipment for flour and starch materials derivatives, such as instant flour, potato starch, corn starch, wheat starch, tapioca starch, etc., compared with the rotary vibrating screen and circular vibrating screen from other factory, our flour sieving machine is better in screen efficiency and output.


Our flour vibrating screen has screening impurities, loose materials and other functions, also can be adapt to 24 hours of continuous production, with the design of discharge port under the sieve, it will be more suitable for the larger processing capacity.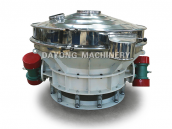 The flour screen is usually used for 12 mesh, 20 mesh, 24 mesh, 30 mesh, 40 mesh, 60 mesh. The widely using aim of vibrating screen is mainly to remove the material contained in flour, such as the thread, stones, bran, eggs, nails and other small impurities, then it will improve the quality of flour. About the model, commonly used models of vibrating screen have: DYS-600, DYS-800, DYS-1000, DYS-1200, DYS-1500; the material contact part must be made of 304 stainless steel or 316L.
If you are interested in more questions, please pay attention to our official website.