As we all know, the common conveyor equipment including belt conveyor, screw conveyor, bucket elevator equipment.
But do you know which type of conveyor is most suit for the wood chips conveying?
Our engineer team, Xinxiang Dayong vibration Equipment Co., Ltd. will make the reasonable solution for customers, according to the case of sawdust conveying from Australia client.
Raw materials: sawdust is dry wood chips with a specific gravity of 0.5.
Handling capacity: eight cubic meters per hour.
Need conveying height: conveying 25 meter height to the packaging equipment.
According to these, Xinxiang Dayong Vibration Equipment Co.,Ltd make the following program:
Firstly, design a storage silo. Capacity is twenty cubic, then installed the vibrator and alarm equipment. vibrator, the main role is to ensure the silo discharge the wood chips normally.
The role of the alarm is to tell us when the wood chips down to the specified location, then could inform the customer continuly to feeding.
Secondly, install a evenly feed screw conveyor at the silo outlet position. This kind of screw conveyor is equipped with a speed control switch, then it can effectively control the silo discharge speed, and achieve the purpose of uniform feeding.
Finally, Use our TD250 belt bucket elevator for wood chips conveying to 25m height.
Install a diversion groove at the outlet section (convenient wood chips can successfully enter into the packaging machine).
In addition, our TD250 belt elevator equipment also designed the control switch, and thus achieve the purpose of uniform conveying.
The following is the the design drawing for customers, and has been recognized by customers.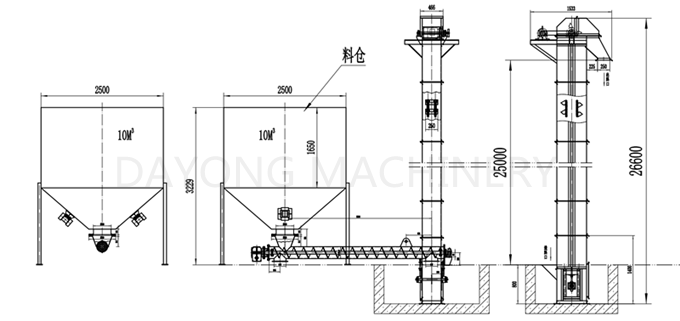 If you want know more about the sawdust conveyor and bucket elevator, please pay attention to our official website www.vibratingscreen.cc.
Or if you have more questions about the conveyor, please contact us.