Horizontal centrifugal sieve
As a special sieving machine in intra-industry, horizontal centrifugal sieve was widely used for sieving micro powder. The screen likes a cask set in the machine body. When the material enter into the horizontal centrifugal sieve, it will be mixed with air and be discharged by the vanes. Then the material would discharge by jetting from the outlet. The material cannot discharging would discharge from the larger outlet.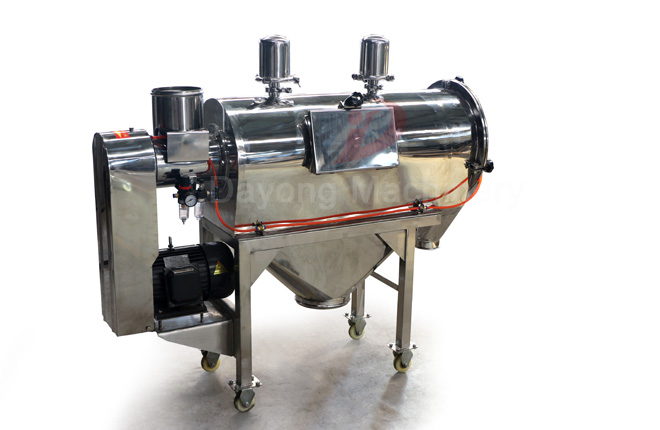 The horizontal centrifugal sieve was widely used for sieving and grading powder in chemical, medicine, food, paper-making, metallurgy, construction, rubber plastics and mining industries. Such as calcium carbonate, calcium powder, coal ash, Graphite powder, starch powder, silver, clay powder, perlite powder, hawthorn powder, vegetable powder, glass powder, pesticide powder, iron powder, the powder, konjac flour, wood flour, wheat flour and so on. According to different size requirement, the mesh could be 100 mesh to 500 mesh. The operator could replace the net easily, the texture of screen surface could be stainless steel net, steel net, copper net, nylon net.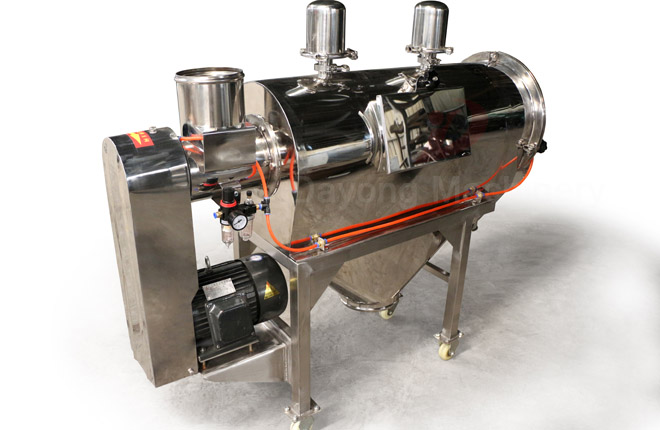 The horizontal centrifugal sieve manufactured by Xinxiang Dayong Vibration Equipment Co., was produced independently according to GMP standard. We control the origin material, equipment, process, package and transmission to cater to the requirement of sanitation. This machine is environmental and practical. We believe that our machine could bring you large benefit.