DY series mobile belt conveyor
One, DY series mobile belt conveyor product summary:
DY type mobile belt conveyor is a continuous handling equipment with high efficiency, safe and reliable use, good mobility. It is mainly used for sites which change loading and unloading place frequently, such as ports, docks, stations, coal yard, warehouse, construction sites, sand quarry, farms and others. It is used for short distance transport and loading and unloading bulk cargo or packaged materials whose single piece weight is 100 kilograms.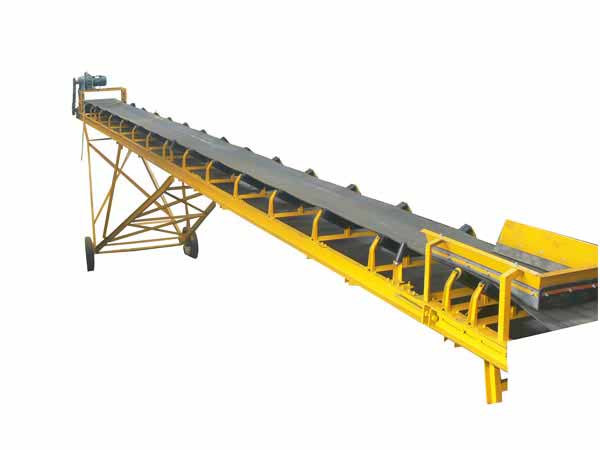 Two, main characteristics of DY series mobile belt conveyor:
It adopts steel pipe structure, light and beautiful, good mobility. The rotary device is electric roller and is provided with two kinds of walking wheels: air-filled tires and steel wheels. Its length is more than ten meters and the angle is adjustable.
It has specifications of 5 meters, 8 meters, 10 meters, 12 meters, 15 meters, 18 meters, 20 meters and other specifications. The mobile belt conveyor has two types of electric
and manual lifting. It has two speed of fast one and slow one to adjust different requirements of bulk transport and packing, which improve the utilization of the equipment and exert the performance of multiple functions of a machine.