■ Specifications
Chemical Vibrating Screen Feature:
1.It can solve sieving difficulties such as high adsorption, easy clustering, high static,high precision, high density, light proportion, etc.
2.It can exactly separate micro particles and powders.
3.During work process, the machine temperature won't rise, which does not change the characteristics of screening materials.
4.Effectively solve plugging mesh.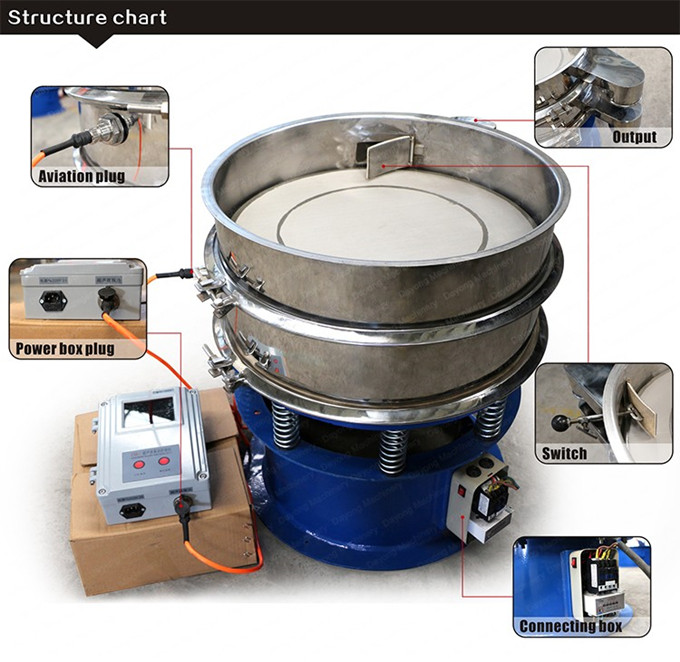 Chemical Vibrating Screen Application range:


It has prominent advantages in solving materials sieving problems such as high absorption, easy agglomeration, high static, high precision degree, light weight ,etc. And it is widely used in size classification, product reclamation ,screening and liquid cleaning.
Details are as follows:
Chemical industry: resin, pigment, cosmetic, coatings, medicine powder.
Chemical Vibrating Screen Certificates:
1.ISO International Standards ensure that products and services are safe, reliable and of good quality.
2.CE certification is designed to protect EU consumers by regulating products to reduce possible dangers to people and the environment.
■ Technical Data
| | | | | | |
| --- | --- | --- | --- | --- | --- |
| Model | Power(kw) | Sieving diameter | Effective area (m2) | Mesh size (mm) | Nets layer |
| DYC-600 | 0.35 | 560mm | 0.23 | 100-800 | 1 2 3 |
| DYC-800 | 0.55 | 760mm | 0.44 | 100-800 | 1 2 3 |
| DYC-1000 | 0.75 | 930mm | 0.67 | 100-800 | 1 2 3 |
| DYC-1200 | 1.5 | 1130mm | 1.00 | 100-800 | 1 2 3 |
| DYC-1500 | 1.75 | 1430 | 1.60 | 100-800 | 1 2 3 |
| DYC-1800 | 2.2 | 1730 | 2.35 | 100-800 | 1 2 3 |
| DYC-2000 | 3 | 1950 | 3.00 | 100-800 | 1 2 3 |