■ Specifications
Bucket elevator for raise low to high, supply automatic continuous operation by means of vibration into the hopper the machine after shipping.
According to the quantity delivered can adjust transfer speeds, and lifting height is selected as your needs evolve, Hopper, as designed and manufactured, bucket elevator is used even unprovoked traction components-fixing a series of Hopper, continuous transportation machines of vertical lifting materials.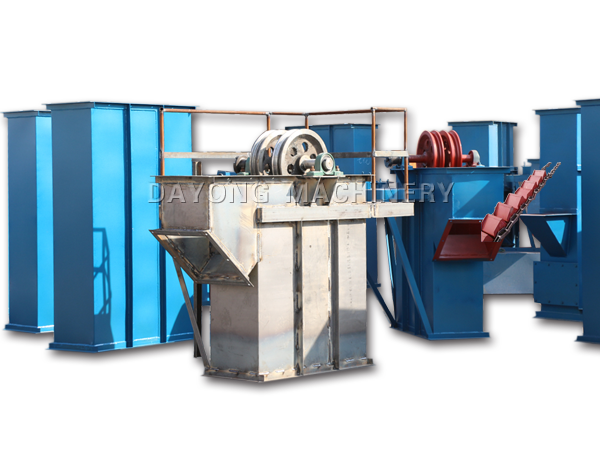 Bucket elevator conveyor is designed for vertical transport powder, granular materials and small block and small materials such as grinding: coal, cement, stone, sand, clay, ore or dry mortar and other industries, for construction, chemical and food stuff.
Widely applied in vast industries like metallurgy, chemical industry,building materials, mine, grain and vegetable oil, food, fodder, plastic and medicine.

■ Technical Data
| | | | | | |
| --- | --- | --- | --- | --- | --- |
| Model | Capacity (m3/h) | Bucket capacity (L) | Buckets pitch (mm) | Speed (m/s) | Size of material (mm) |
| NE15 | 15 | 2.5 | 203.2 | 0.5 | 50 |
| NE30 | 30 | 7.8 | 304.8 | 0.5 | 65 |
| NE50 | 50 | 15.7 | 304.8 | 0.5 | 65 |
| NE100 | 110 | 35.0 | 400 | 0.5 | 95 |
| NE150 | 170 | 52.2 | 400 | 0.5 | 95 |
| NE200 | 220 | 84.6 | 500 | 0.5 | 125 |
| NE300 | 320 | 127.5 | 500 | 0.5 | 125 |
| NE400 | 400 | 182.6 | 600 | 0.5 | 145 |
| NE500 | 500 | 260.9 | 700 | 0.5 | 165 |
| NE600 | 600 | 330.2 | 700 | 0.5 | 165 |
| NE800 | 800 | 501.8 | 800 | 0.5 | 195 |